On Sunday's meal plan post, I announced that I'd try to keep my meals mostly paleo this week. So that failed. Mostly, I like to think, because we ran out of a few essential groceries on Sunday- eggs (a staple anyway), and apples (my go to snack). That combination was a disaster waiting to happen.
With that being said, let's get to the eats:
What I Ate (Monday)
Breakfast
Oven baked oats. Sorry for the recycled photo - I didn't think to snap one!
Like I said, no eggs. I thought I would make this for the toddler and then, would whip up a smoothie for myself. Did. Not. Happen.
It wasn't a bad start to the day, but I was disappointed that what should have been my first paleo meal of the week, most definitely was not.
Lunch
By the time lunch rolled around, I really wanted to make sure I stuck with my goals. And that I did with these paleo Tuna cakes.

These were so good! I actually made these thinking they would be a great meal for the Toddler, and that I would freeze a few. I whipped them up and gave them a taste. And then another taste. And then another.
I really had to remind myself to save a few for the Toddler, but they were so full of flavor and so tasty! I'm definitellllyyy going to be making them for lunch a lot, especially considering that they took me about ten minutes to whip up.
I also had them with some salad, as you can see. Oh, and the Toddler's verdict = awesome! He loved them as much as me. I tried to hide some salad underneath his tuna cake, but he outsmarted me. Once he spotted the greens, he started meticulously picking them off of his plate. Not cool little man, not cool at all.
Dinner
Not that you can really tell what they are, but those are green, stuffed bell peppers in a homemade red sauce. This was another remake of a pretty traditional Russian recipe that I had a lot as a child. I made it paleo by swapping white rice for cauliflower rice, and added a few more veggies to it like leeks, and some mushrooms to really amp up the sauce.
Another successful paleo meal!
For snacks, I had some fruit (clementines, a banana).
Drinks? Coffee. So much coffee. I don't know what it is, but I am barely drinking anything else lately. Not even water. Today, along with getting in a fantastic workout, drinking water is actually on my to-do list.
Okay, so had I stopped here, this wouldn't have been an unhealthy Monday! But alas, hubs proclaimed after dinner that he wanted some chocolate cake and coffee. Yea, I don't think I've ever turned down chocolate cake.
There it is! My first not so paleo day! Tuesday was better, although I did have a piece of corn bread with almond butter and banana so one cheat meal. I guess I'm transitioning slowly.
As always, I'm linking up with Jenn and Peas and Crayons: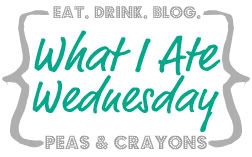 That's all for today's eats! Thanks so much for stopping by!